With the holiday season right around the corner, there's no better way to celebrate the holiday spirit than by creating a beautiful decorations on your front door. There is something delightfully magical about driving down a wintery street filled with beautifully decorated homes. These Christmas front door decor ideas will surely make your family, friends and visitors feel truly welcomed.
For door decorations, many of us tend to default to the same old formula : we hang a a pre-decorated wreath and call it a day. However, there's a lot more you can do than just hanging a wreath – it involves 3 design areas (1) door (2) above the door (something hanging) (3) floor decorations.
Check out these creative Christmas door decorations for inspiration:
1.A Christmas Star!

Instead of a traditional round wreath, why not go for a star shaped one? To create your own rustic star decoration, get an unpainted wooden star from the craft store. Then wrap the star in twine until every surface is completely colored. This simple door decoration is a unique and unexpected twist on the classic wreath. Find out to make the twine star at: lowes.com
2. Shimmery Metallics

Hang up some large ornaments and let them sparkle in the light. Metallics ornaments are classic and perfect for Christmas. You can get this look by using clear fishing wire to hang the baubles. For the door hanger, look for small and medium-size old tin pitchers. Using a metallic gold ribbon, hang them as a bundle from your door knocker. The pitchers will clamor with glee every time the door is opened. Next, add string lights to nearby bushes or tree for more added sparkle. Via Pinterest.com
3. Rustic with Burlap and Pinecones
This elegant and understated look with burlap and pinecones can be achieved by using fabric with similar color but different textures to wreaths and garlands. To achieve this look, take burlap ribbon with shimmery white satin and pale green ribbons for a multidimensional finish. The addition of the extra large pine-cones and pine branches gives this door design a beautiful finishing touch.
4. Poinsettia topiary
Poinsettias are the flowers for the holiday season. And instead of keeping them indoors, bring them out by creating a pair of beautiful floral Christmas topiary for your outdoor decor. The main things that you need are galvanized tomato cages and silk poinsettia flowers. Detailed instructions at Hallmark
5. Icicles and Lights
Sometimes simple and understated is best. And all you need are some string lights mixed with some twinkling icicle lights. You cannot go wrong with that. Source: squarespace.com
6. Red And White
Check out this classic candy cane combo of red and white. To achieve this look, get two candy canes on either side of their door, a white wreath with red ornaments, gingerbread cookie ornaments and striped red bows. The snowman welcome mat adds a finishing touch to the cheerful color scheme. Source: hometalk.com
7. Decals and Green
Decals aren't just for quotes on walls year-round. Instead, they can easily be part of Christmas decorations as well. The white"Merry Christmas" decal pops out on the black door. Decals are a simple way to add some interest to your decor. Source: hometalk.com
8.Ornament Topiary
Giant red ornament topiaries add color and interest for this festive Christmas decor. Red striped ribbon, red ornaments anchored on a green garland frame the door. Via Seasonal Home
9.Triple Wreath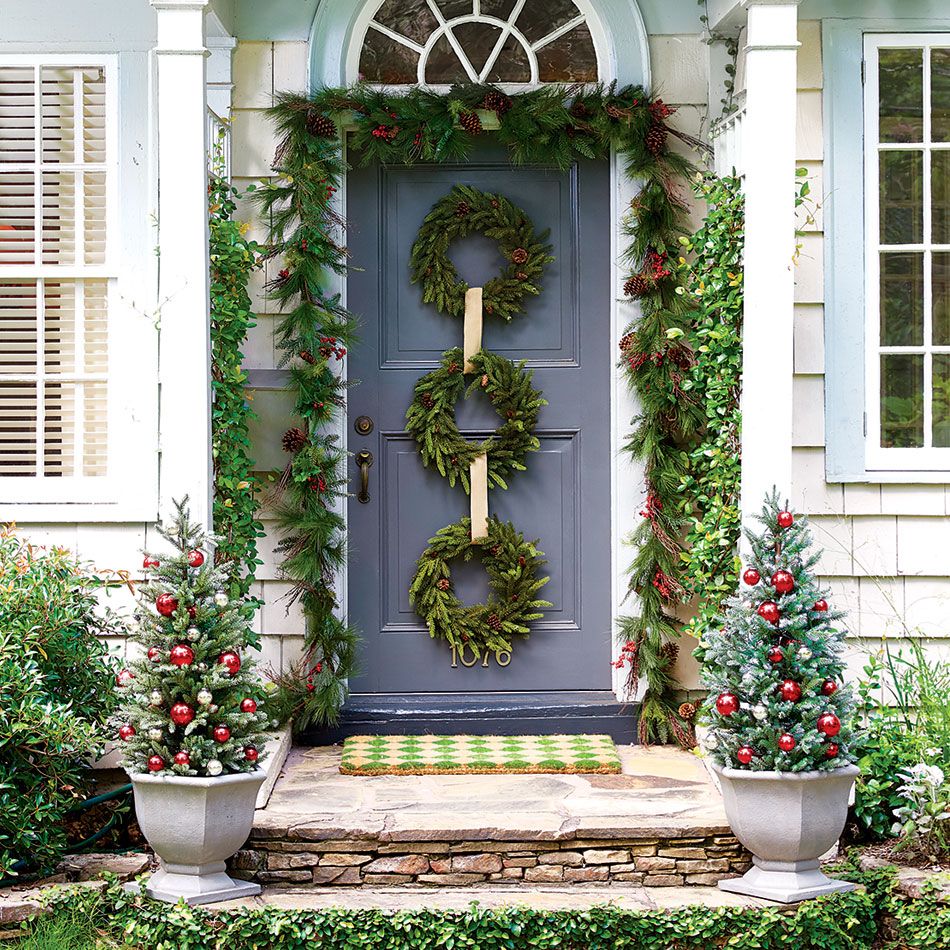 Instead of a single wreath, why not triple? For your Christmas decorations, add 3 pine wreaths strung together with a thick ribbon. And add some color with red ornaments to a pair of pines. A simple but unique way to ring in the Christmas spirit. Via Ballarddesigns.com
10. Square Wreath
So you want something a little unique for your outdoor holiday decor but only want a single wreath? Well, why not a square one? This will definitely make a statement in a sea of round wreaths. Source: oldontariohouses on instagram