Transform the humble tomato cage into a beautiful decorations for the Christmas holidays. With a little bit of crafting, the cage can turn into evergreen trees, angels, Santa hat, Christmas card holder, advent calendar and more! Check out the creative ideas!
1.Christmas tree with red ribbons and garland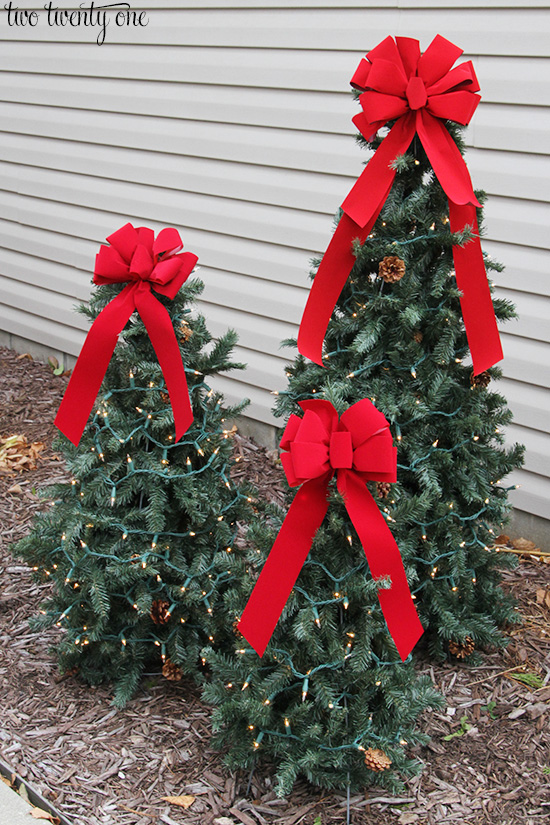 Transform the humble tomato cage into a evergreen tree by using garland that has been reinforced by wire so that the branches can be shaped whichever way you like. Check out a more detailed tutorial
from
Two Twenty One
Supplies: Tomato cage, string lights, ribbon, 3-6 wire garlands depending on size
2.Lighted Christmas Trees
If time is of the essence, then just add lights to your cage for these lovely Christmas trees. The more the merrier. Check out the tutorial via houseconfetti.com
Supplies: Tomato cage, string lights
3. Multi-colored Christmas Trees
Here are some multi-colored lighted trees. If you want the trees to be filled with lights, expect that the trees will more lights than you think. The minimum would be 200 string lights for a small tomato cage for a brightly lit tree. Via Pinterest.com
Supplies: Tomato cage (different sizes), string lights
4. Mesh Snowman
Another DIY idea is turning the tomato cage into a lovely mesh snowman. Via Tina Davis on Pinterest
Supplies: Tomato cage, white and red striped deco mesh, large red ornaments, black garland (for hat), snowflake ornament, styrofoam ball, black string, black buttons, orange nose
or 5.Tinsel Snowman
Use tinsel garlands, some branches and lights for this super cute snowman. Via Pinterest.com
Supplies: Tomato cage, white tinsel garland, tinsel hat, glitter branches, red ribbon, string lights
6. A Christmas card holder
Display your Christmas card stash with this lighted Christmas Card Holder via Christmas Lights
Supplies: red tomato cage, string lights, santa hat, base
6.Santa Hat
Make a giant Santa Hat with red and white mesh. Check out the DIY details via The Tip toe Fairy
Supplies: Tomato cage, red and white deco mesh,
7. Modern Christmas Tree
If a traditional evergreen is not your thing, then how about a burlap ribbon and paper bird ornaments? Via
Pinterest.com
Supplies: dark green tomato cage, string, burlap ribbon, bird printouts, red string
8. Ornament Hanger
Have extra ornaments? Hang them on tomato cage for this wonderfully simple tree via A Fanciful Twist blog.
Supplies: green tomato cage, colored ornaments
9. Advent Calendar
Tomato cages come in different colors – pick up a red one, add bow, topper and ball ornaments. Now you have your own special advent calendar. Find the full tutorial via
Lungfarm blog
.
Supplies: red tomato cage, ornaments, marker, ribbon, star topper
10. A Deco Mesh Christmas Tree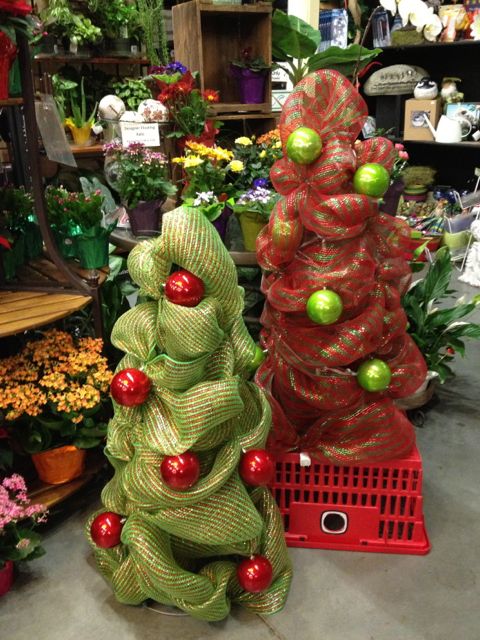 Deco Mesh Christmas Trees from Sow and Dipity
Supplies: Tomato cage, red and green deco mesh, ball ornaments, wire
10. Pine Cone Christmas Tree
Pine Cone Tree via Trendy Tree
Supplies: Tomato cage, pine cones, checkered burlap ribbon, wire
[adsenseCenter]
11. Pine Angel
Pine branches and ball of branches are transformed into this nature-inspired angel via pinterest.com
Supplies: Tomato cage, pine trimmings, burlap ribbon, decorative twig ball
12. Deco Mesh Angel
Light up a tomato cage and add some deco mesh and ribbon for this beautiful Christmas Angel via Pinterest
13. Let it Snow Tree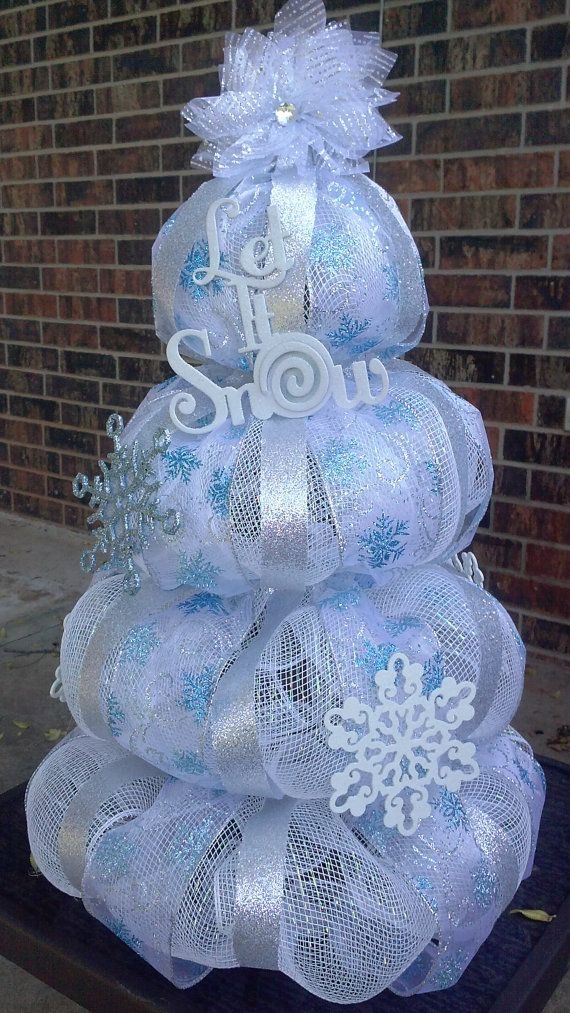 Take inspiration and create a winter wonderland with tomato cage turned symbol of winter. Via Etsy
Supplies: Tomato cage, ribbon, snowflake, deco mesh, wire
14. Glass Ornament Tree
Light up a tomato cage and add glass ornaments for this unique ornament tree via Arcadia Floral & Home Decor on Pinterest
Supplies: silver tomato cage, assorted glass and silver ornaments, wire
15. Rustic Tree with Twigs and Pine
A red cardinal adds a focal point to this rustic twig and pine tree by using lights and a tomato cage as a base. Via Ana Rosa
Supplies: Tomato cage, pine cones, cardinal bird ornament, white string lights, branches, wire or clear zip ties
16. Whimsical Candy Cane Tree
Use striped deco mesh and ribbons for a whimsical take on a candy cane inspired Christmas tree. Via Pinterest
Supplies: Tomato cage, striped deco mesh, ball ornaments, wire, ribbon
17. Poinsettia Topiary
Take poinsettias to a higher level with this stunning topiary. No one would ever know that the humble tomato cage serves as the base. Via Hallmark
Supplies: Tomato cage, silk poinsettia flowers, chicken wire
18. White Christmas Tree of Feathers
If pine and deco mesh are not your thing, then how about white feathers? Create a luxurious white Christmas tree feathers and lights. Don't forget to add something sparkly as a topper. Via hometalk.com
Supplies: Tomato cage, feathers, string lights, wire
19. Red Checkered Christmas Tree
Another take on the Christmas tree – a red checkered one via Pinterest.com
Supplies: Tomato cage, deco mesh, ball ornaments, wire
20. Simple Vintage Light Display
Create this vintage lighted tree for Christmas and then display it all year around! Instructions via Lowes.com
Supplies: galvanized tomato cage, steel wire, string lights, bronze spray paint