Christmas is right around the corner. And if you are contemplating putting up a tree, but space is at a premium or have small children or pets, then try one of these creative Christmas tree ideas without the need for an actual tree. These trees will take up minimal space and offer a more modern alternative to the traditional Christmas pine.
1. String lights Christmas tree
Who needs a tree when fairy lights and ornaments look this great! To get this look, use removable adhesive hooks, ornaments, fairy lights and a nearby electrical outlet. This non-traditional Christmas tree definitely rings in the holiday spirit! Via A Simple Modern Life
2. Wood Dowel Christmas tree
Wood dowels make for this minimalist Christmas tree. There is something so stylish and simple about Scandinavian influenced ornament hanger decorated with cool black and silver ornaments. Creating such a tree would be a simple DIY project. Learn how at:
Homey Oh My
3. Plywood Christmas tree
4. Christmas Tree Shelf
Switch out ornaments for candles on a Christmas Tree shelf made of wood. Via Alquimiadeco
5.Christmas Tree Frame
Use the negative space from Christmas Tree shelf to get not one but 2 Christmas Trees to add to your holiday decor. String wire across the space and hang ornaments to complete the festive look. Source Stephaniebriocole.com
6. String lights Christmas tree on Wood backdrop
So you want some twinkling lights but don't want to cut plywood? Well, why now just get a single plywood board, use clear adhesive hooks and then string lights in the shape of the tree. Find out more detailed instructions at : A pair and a spare
7. White Christmas tree silhouette
Put your cutting skills to the test by creating this simple white Christmas tree. To create this, get a large foam board, trace and cut the outline of a tree. If you want a more permanent look, then using a wood board and cutting the shape carefully with a jigsaw (if you have access to one). Add string lights and volia – bring the outdoors inside. Source: Cox and cox
So many wood Christmas trees. Now moving on to:
8. Modern Cardboard Christmas tree
9. Paper Honeycomb Christmas tree
If paper is not your thing, then try:
10. String Christmas tree
Similar to the fairy light Christmas tree above, this Christmas tree uses adhesive wall hooks to create the geometric string design. You could hang light ornaments from the string with small hooks, or you could peg Christmas cards and other decorations to the string. Source: My Poppet
Use up those stack of paper Christmas cards for a
11. Christmas card tree!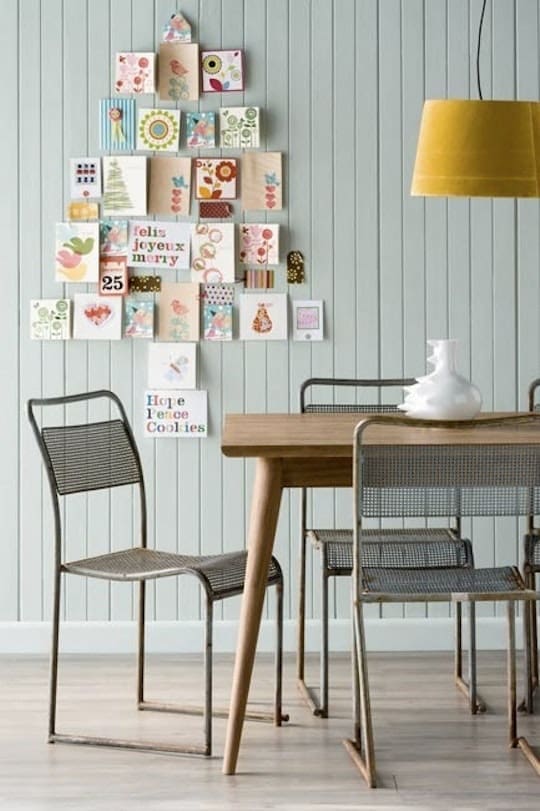 A simple way to get the most out of your Christmas cards by shaping them into a tree. This is a great option for those who still receive paper cards.
12. Photo block Christmas tree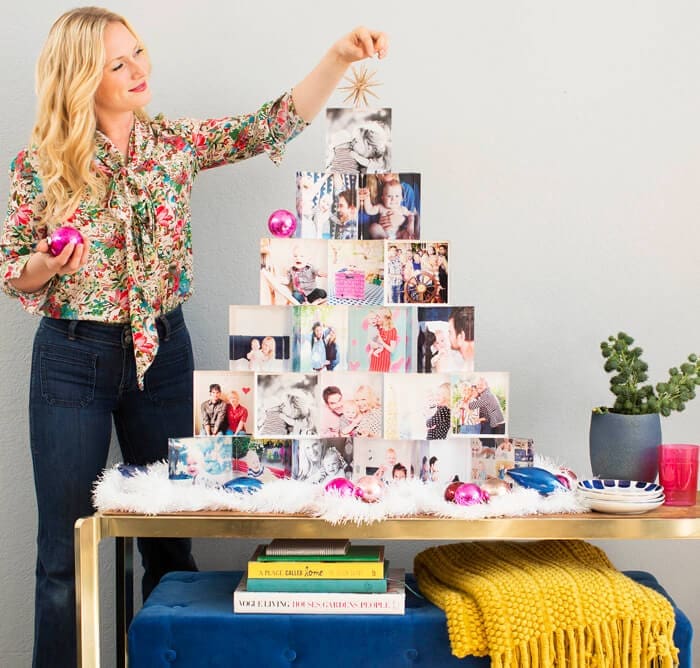 13. Tissue Paper Christmas Tree
How about using tissue paper to create a lovely pastel colored Christmas tree. source: Curbly.com
14. Branch Christmas Tree
For this wonderful space-saving tree,all you need are a few branches and twine. To make this, lay out the branches on the floor and connect each branch with twine. Then hang on an empty wall, string lights and ornaments and you have an instant Christmas tree! Via Pinterest.com
15. Corner Christmas Tree
If finding an empty wall is a problem, then try out this corner Christmas tree as a alternative. If plank boards are not readily available, take inspiration from the above ideas by just stringing lights, using honeycomb paper balls, Christmas cards or ornaments. Via pinterest
16. Wood clothes pins
Another creative and practical way to add some holiday cheer! Check out this advent calendar made of wooden clothes pins in the shape of a Christmas tree. Use washi tape to form the tree frame, add clothes and then advent treats. If it's too late for an advent calendar, then how about hanging ornaments or christmas cards? Via pinterest
17. Vase Christmas tree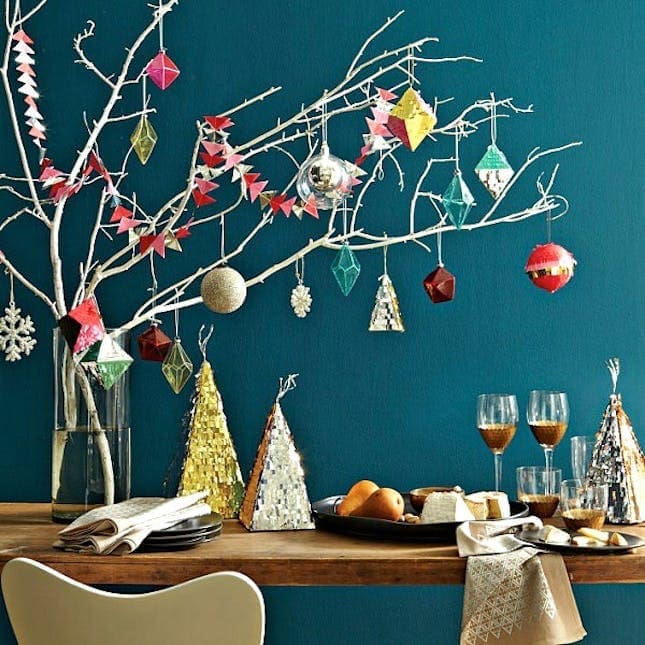 This Christmas tree alternative simply involves taking branches and placing them in large glass vase. Place the branch Christmas tree on your dining table or mantle and add decorations. This DIY Christmas tree idea makes for a stunning focal point to any room.
18. Tassel Fringe Christmas tree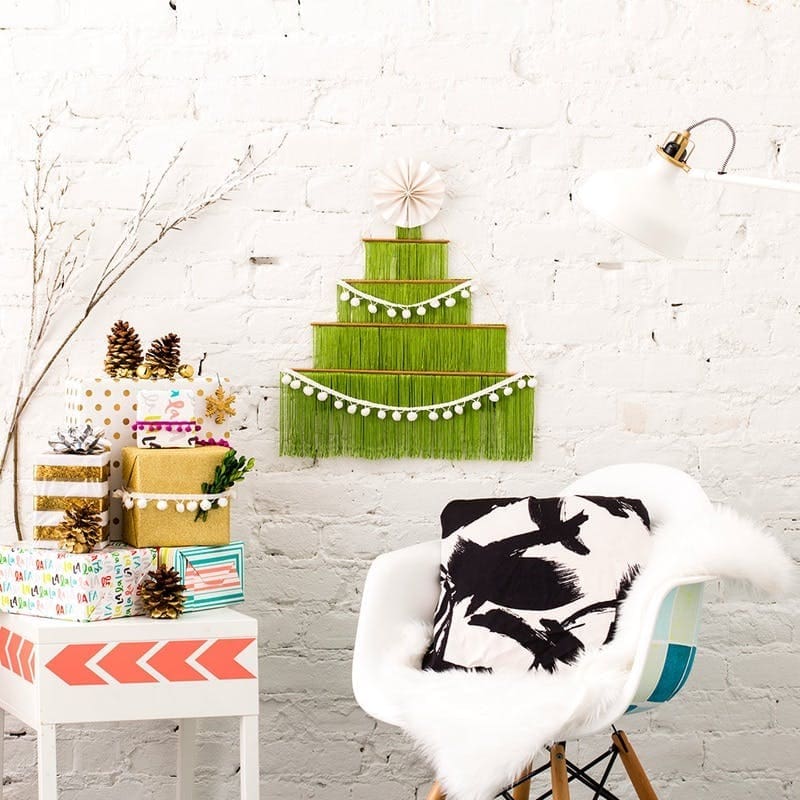 Here is another wall hanging idea that simply uses tassel fringe and pom pom trimmings for this super chic, ultra modern Christmas tree. Add some extra holiday spirit with side table loaded with Christmas presents and cozy sheepskin in a mid-century modern chair. Source: Brit + Co
19. Wire Star Christmas tree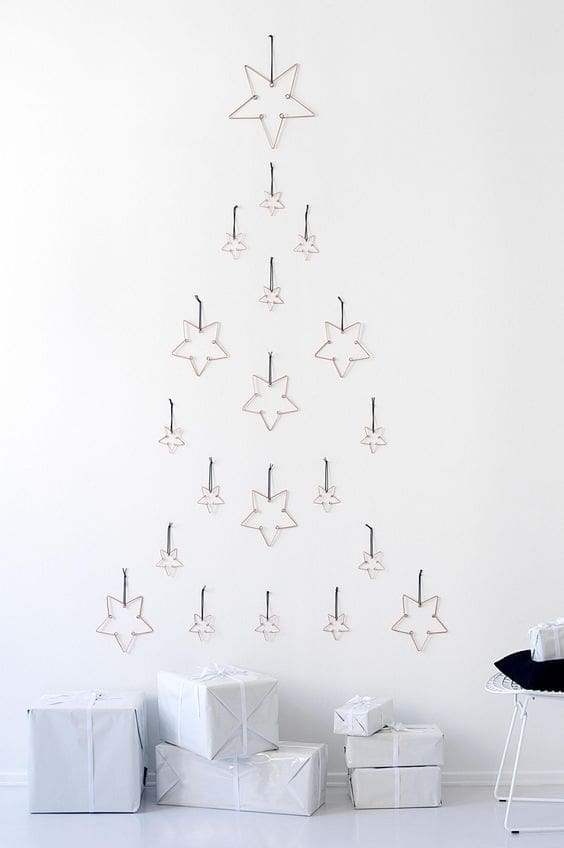 20. Clothes Hanger Christmas Tree

If twisting wire into star shapes is difficult (see above #20), then take the easy path by connecting multiple wire clothes hangers together for a super quick and easy advent Christmas tree. There is no need to run to the craft store for supplies – just go to your closet You will have this tree up and displayed in no time. Check out the tutorial at: ueberallunirgendwo.
21. Canvas Christmas tree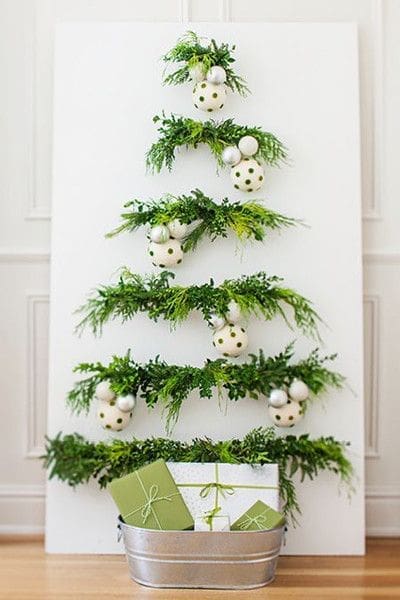 Add some natural greenery to your contemporary Christmas tree. Glue branches of pine and ornaments to a large canvas. Also, be sure to add some extra twinkle with some string lights.. Source: via Lonny Magazine
22. Hanging herbs Christmas Tree
Make your holiday home smell heavenly with bouquets of herbs hung from a wooden dowel in the shape of a Christmas tree. This one serves a dual purpose – drying herbs and Christmas decoration. Sage and rosemary were the herbs used in this tree. Via Domino.com
23. Copper Pipes Tree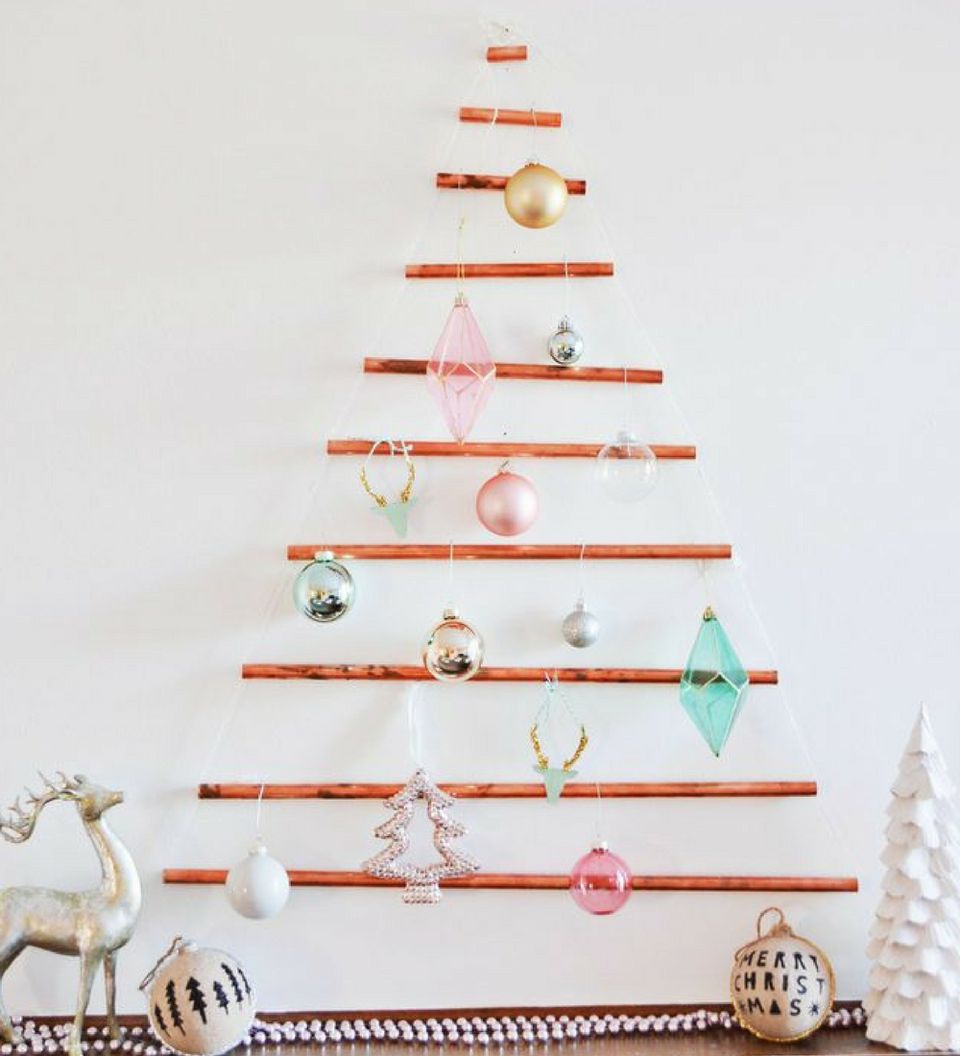 Pieces of copper pipes and white string work beautifully together to create this modern Christmas tree. Hang your favorite ornaments on this sturdy tree for a trendy industrial look. Source A Joyful Riot
24. Washi Tape Christmas Tree
Washi tape
can turn the ordinary into the extraordinary. Here, a white wall is transformed into a cool Christmas tree j-u-s-t with tape! How amazing is that? Matchy packaging in black and white frame the decorated wall. Source:
L'Atelier d'Al
25. Photo Collage Tree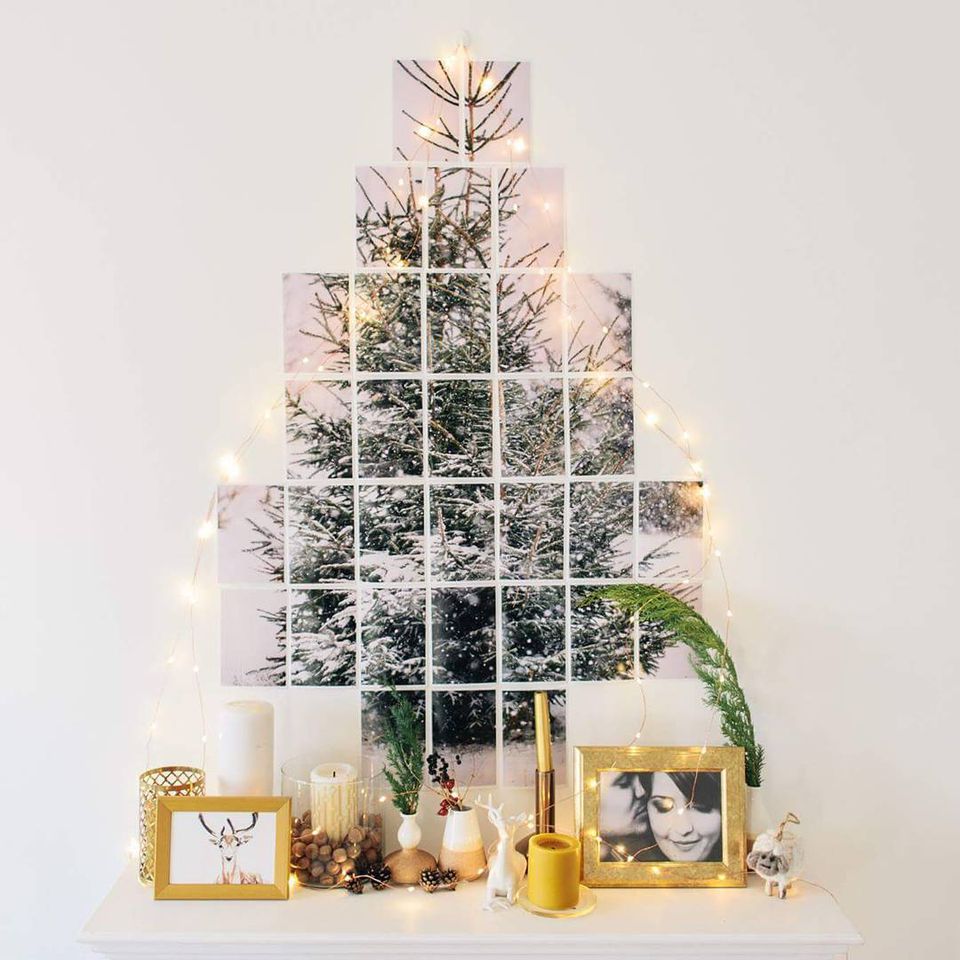 For a real tree but not the hassles that come with it – cleaning up fallen needles – why not print out a massive photo of your favorite Christmas tree? To convert your image into a massive stitched one, try the online image converter at Rasterbator. Source: @deersphotos / Instagram
So there you have it – 26 lovely ideas for contemporary Christmas trees that are fairly simple to create. An added bonus is that these trees could easily be child or pet proof – depending how and where you place your tree. Hope you were inspired to create your own unique Christmas tree this year.
Happy Holidays